THE LAW
Every vehicle needs to have mirrors by law. By law, trucks need to have two outside mirrors positioned to show the driver a view of the highway to the rear, as well as, the area on both sides of the vehicle. More importantly (depending on how you look at it), the mirrors are there for the safety of the driver, the passengers, and others on/off the road. They guarantee that every driver has the ability to have as much visibility as possible when driving. But, with the advancement of technology mirrors can start to take more of a backseat role, so to say. Cameras in place of mirrors can display and show more than mirrors can, but the law is a tricky thing.
The Federal Motor Carrier Safety Administration has allowed a 5-year exemption to Stoneridge Inc. This allows its aftermarket MirrorEye mirrorless digital camera and sensor system to be installed on trucks as an alternative to traditional mirrors. FMCSA said, "The Agency has determined that granting the exemption to allow the use of the MirrorEye system in lieu of mirrors would likely achieve a level of safety equivalent to or greater than the level of safety provided by the regulation."
TECHNOLOGY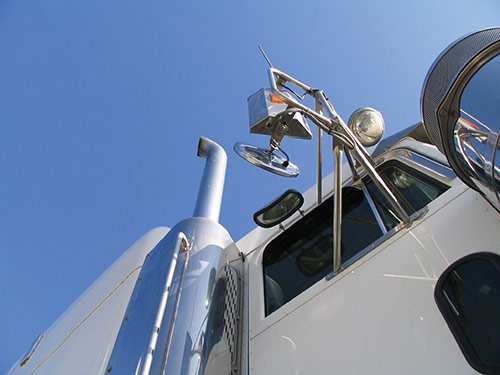 Clearly, this is an experiment to see how things are going to go during the next five years. Additionally, If this experiment plays out well then it could become a precedent for change to take place. Therefore, this could be the beginning of the end for mirrors.
WHY
The FMCSA stated that this could lead to a greater level of safety among truck drivers. However, why? Why can cameras provide greater amounts of safety compared to mirrors? Mirroreye works with five cameras, three sensors, and three digital displays. The three, high definition displays are placed within line of sight of the driver. Removing the mirrors also means that there is less aerodynamic drag on the vehicle and fuel efficiency will improve by 2% to 4%, Stoneridge says.
Randy Mullett, of Mullett Strategies said "I think the big change isn't going to be day-to-day driving in good weather conditions, but it's going to be in those lousy conditions, it's going to be at night, and it's going to be in tight quarters when they realize I can always see the back end of my trailer." Continuing, "Think about that as eliminating blind spots, not just reliant on the blind spot radar detector, but you've got a camera doing it, that can pan and coordinate with those blind spot radars. This is really a great leap forward in driver-assist technology and I think makes us all better drivers." This is another good step forward for an industry that's continuing to take more steps every day.
For more information, follow us each week for the latest transportation industry news or contact AssetCo here.